Waste disposal & recycling in Lausanne
The Swiss are efficient and conscientious about recycling and have a myriad of rules and regulations regarding the issue. Unsurprisingly, Switzerland tops world rankings for environmental action. Adapting to Switzerland's waste and recycling collection system requires time and effort but it is good for your conscience and for your wallet. Recycling collection points for most materials are widely available.
All the information you need about waste and recycling is provided by the Federal Office of the Environment (DE/FR/IT). You can click your canton on the map to find related links. For tips on saving energy and preserving the environment visit Energy-Environment (DE/FR). Read more about Switzerland's thorough rubbish disposal and recycling systems and their benefits on Swiss Recycling (DE/FR/IT).
Useful resources in English:
Ch.ch provides links to cantonal waste disposal and recycling information.
The recycling map shows collection points for all types of waste and centre opening times.
Garbage disposal in Lausanne
Waste and recycling in the canton of Vaud is organised into ten (FR) areas. Search for local information on your commune's website or on Ch.ch.
In 2013 the 300 + communes (FR) in canton Vaud introduced a regional household garbage bag that includes collection fees. This white bag with green lettering is sold in supermarkets and post offices. It is mandatory to use these bags; if other bags are placed in the collection containers you risk fines of up to CHF 300.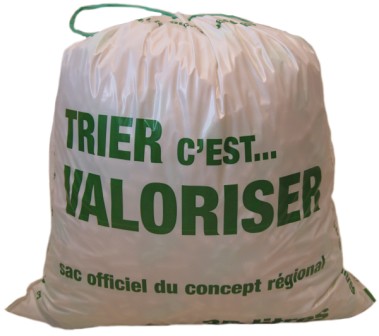 The rubbish bags are available in four sizes:
| | | |
| --- | --- | --- |
| 17 Litre | 10 Bags | 10.- CHF |
| 35 Litre | 10 Bags | 20.- CHF |
| 60 Litre | 10 Bags | 38.- CHF |
| 110 Litre | 5 Bags | 30.- CHF |
Depending on your neighbourhood, full bin bags should be placed either on the street on designated days or in specified collections points in your area. Garbage, paper, carton, and green waste will be collected.
Communes that do not participate in the regional collection system may have their own municipal bag or household waste might be picked up free of charge. Contact the responsible department at your commune for further information or consult the English leaflet provided by vaud-taxausac.
Recycling in Lausanne
Glass, paper, aluminium and plastic PET bottles need to be separated and then deposited at local recycling points. Glass items are further separated by colour. Locate recycling points all over Switzerland on Swiss Recycling (DE/FR/IT).
Recycling collection containers for oil, old clothing and metals are available in most neighbourhoods. Canton Vaud (FR) offers information on how to dispose of various materials.